Improved Comfort and Efficiency with Innovative Thermostats
If your HVAC system struggles to keep the temperature you set, consider a new thermostat. A faulty or outdated thermostat can get stuck in either heating or cooling mode, keeping the property uncomfortable and running inefficiently. If you find that's the case for your home, Central Heating & Cooling, Inc. can help: over 30 years of experience and thousands of satisfied customers.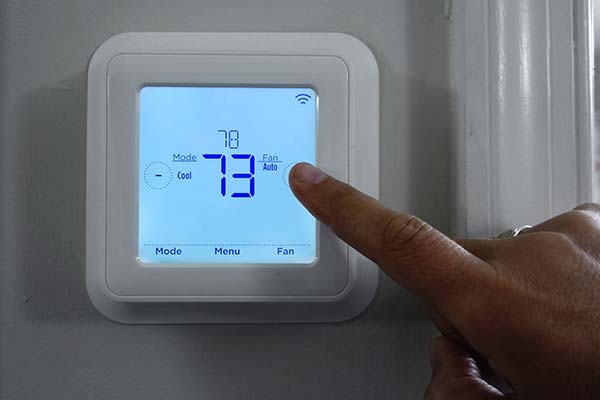 Key Indications That Your Thermostat needs to be Replaced
When you turn on your thermostat in the morning, how often does it stay set at the same temperature? And when you return to your house from work, does it feel too cold or too warm? It may be that your thermostat has a faulty switch. Here are some signs that your thermostat may need to be replaced.
If you notice any of the following issues, it could be a sign that there's something wrong with your thermostat:
Your thermostat is not turning on.
Your heating and cooling system won't turn on or off, even though you've set the thermostat accordingly.
The setting on your thermostat doesn't match the temperature in your home.
There are hot and cold pockets in your home that are different from the thermostat setting.
If you're experiencing trouble with your thermostat, here are some home troubleshooting steps that you can take. Make sure the settings are correct and that the batteries are charged and installed correctly. If these steps do not fix the problem, our expert HVAC professionals specialize in thermostats and can help get your thermostat working in no time.
Innovative Wi-Fi Thermostats
There are many different styles and models on the market when it comes to wireless thermostats. These devices can work within your budget and suit your lifestyle, opening up many comfort control options.
Benefits of our Wi-Fi Thermostats
Convenience: We have made it effortless for you to control your home's temperature from anywhere with our modern touch-friendly mobile app.
Maximizing Efficiency: One of the best features of Wi-Fi thermostats is that you can automatically adjust the temperature down when you are not home, minimizing your impact on the environment and saving you money.
Smart System: Using an alert system is a convenient way to make sure your home doesn't experience any unwanted surprises while you are away. With alerts, you can get real-time information on potential mishaps and see when maintenance needs are at their highest.
Request an HVAC Consultation Today
The technology in heating and cooling thermostats has evolved constantly over the years, introducing new features that help you maintain comfort and efficiency. When your thermostat needs to be fixed, we have options for you. We offer replacements for the thermostat that will ensure optimum performance in your home. Our technicians take pride in providing energy-efficient solutions for your home and enjoy educating our clients on how to get the most out of their new thermostats. We are here for you! Contact us at (716) 892-7965 to schedule an HVAC consultation.