Buffalo's Leading AC Installation and Repair Services
We pride ourselves on fast, high-quality AC repair services. When you need the best possible help with your AC, that's where we come in. We can help you get your air conditioning back in working order before you know it. We have HVAC maintenance packages for all types of AC units. Our HVAC maintenance packages make it effortless to enjoy your home without worrying about the costs or hassles of purchasing a new AC or expensive AC repairs. We've been in Cheektowaga for over 30 years with a reputation for superior service. We have a team of highly-trained professionals who can service all types of air conditioning units, including central units, ductless split-mini systems, and more.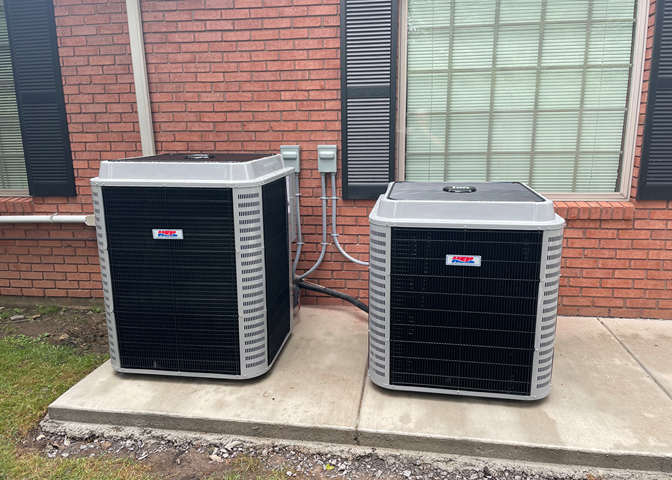 Signs that Your AC Needs Repair
It is a common yet frustrating reality that issues with your air conditioning system often occur at the worst time. AC system failures typically occur when the faulty or old system is pushed beyond its limits. To avoid small AC problems from becoming big ones, understand your cooling system, and familiarize yourself with signs of potential issues. If you spot any of these warning signs, it is time to call our certified AC repair technicians:
Your home's temperature is not cooling to the setting on your thermostat.
The temperature in your home stays unchanged from your thermostat not working.
The air in your home does not circulate, leading to hot and cold spots.
Strong unpleasant or dusty odor.
Your AC unit is blowing warm air or hardly any air at all.
Loud noises coming from your AC unit.
Leaking freon or liquid is coming from your AC unit.
Quality AC Installation and Replacements
For the convenience of our customers, we offer financing on new air conditioning systems. We use top-quality equipment that ensures reliability and value to make a good investment. Replacing your old AC unit with our high-quality AC installation services will not only save you money in the long run, but you'll enjoy a higher level of sustainability and efficiency. Our experienced technicians install custom AC systems according to your needs and budget, using parts and equipment from the top brands.
Schedule an AC Service Appointment Today
Proper AC maintenance is key to keeping your home comfortable and healthy year-round. The best way to avoid a costly AC repair is by regularly inspecting your system. Whether your central air conditioning system is broken or needs maintenance, you'll be comfortable with our professional AC repair services. We can do it all if you need an emergency fix, AC installation, or seasonal maintenance. We're conveniently located in Cheektowaga and service all of Western New York.