Premium Furnace Repairs & Installations
When winter rolls around, a reliable heating source is a necessity. The cold temperatures, snowfall, and icy conditions can put your family at risk when your furnace fails to kick in. When your furnace starts acting up or needs repair, our experienced certified service specialists will arrive quickly to get it running in no time with quality, lasting repairs. If your furnace is outdated, we will recommend high-quality energy-efficient replacements.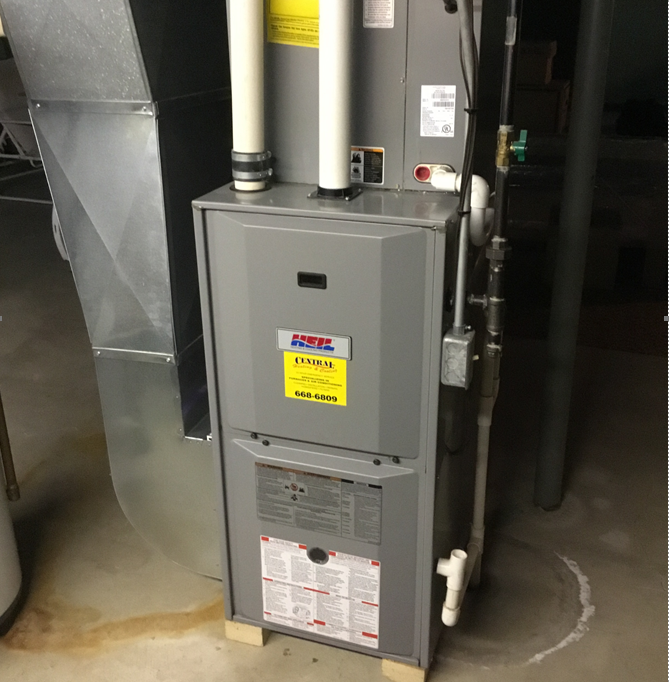 Unmatched Heating Services
At Central Heating & Cooling, Inc., our standards are higher than most of the options on the market. Our core values of doing work that stands the test of time, adhering to high-quality standards, and providing superior service make us different from other heating and cooling companies in the area. We operate with integrity, which means we're committed to providing quality workmanship every time. We aim to exceed our client's expectations and deliver unbeatable heating repair and installation services. You can trust us to safeguard your property.
Signs Your Furnace Requires Professional Repairs
It is emitting strange noises.
Your heating bills have increased without any obvious reason.
The gas burner flame is yellow.
The heater runs without stopping.
The heater is producing a burning odor.
Inconsistent temperatures from failed blower fans.
Your air quality has decreased.
Furnaces are experiencing electrical or gas connection issues.
The pilot light fails to ignite.
Ignitor not working
Furnace Repair Solutions
True, a broken furnace is an inconvenience. It can be an even more serious problem for homeowners whose health and well-being are at stake. Central Heating & Cooling, Inc. is here to make your day a little warmer! When your furnace breaks down, we're happy to offer a wide range of quality heating repair solutions that provide long-lasting solutions at an affordable cost. One of the benefits of our expert services is that our technicians will use their experience to find out the best way to get your furnace repaired.
Furnace Replacements
When your furnace shows signs of age, such as increased repair needs or uneven heating, it is usually a good idea to replace it. We take pride in our quality care and help you find the best solution for your budget and home. Our company has over three decades of experience specializing in furnaces. Manufacturers have recognized us as one of the most prominent and knowledgeable Heil Elite dealers. Central Heating & Cooling, Inc. is dedicated to surpassing your expectations with high-quality heating repair and installations, innovative energy-efficient heating systems, and outstanding customer service. Contact us at (716) 892-7965 to schedule furnace repairs and replacement services.